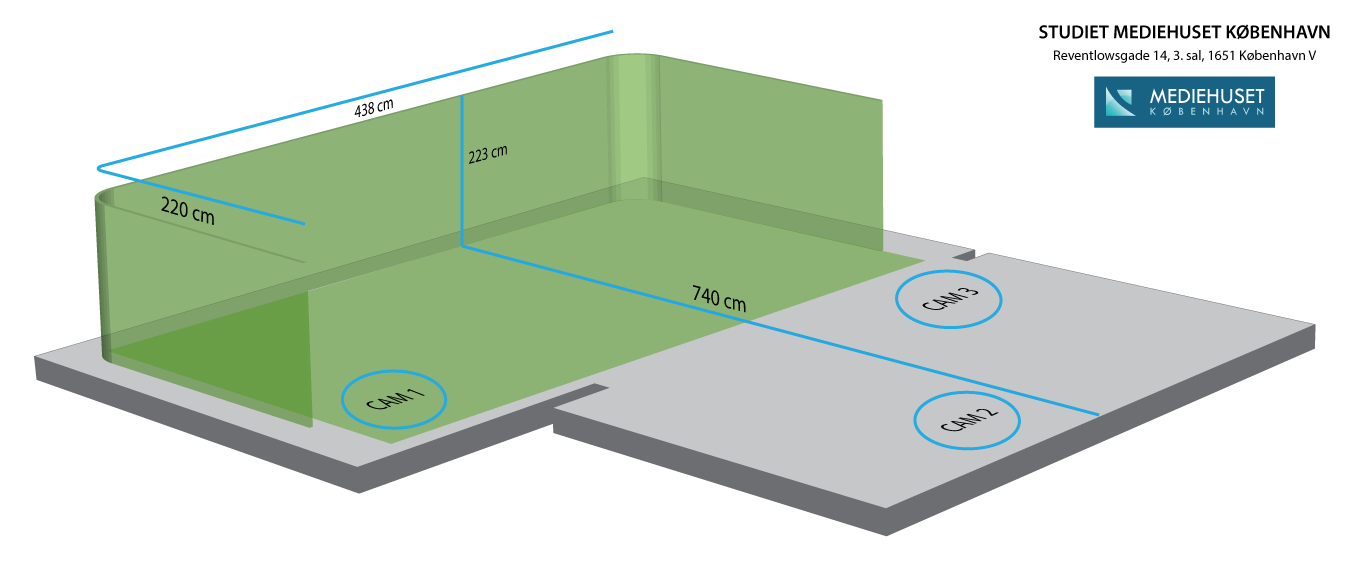 01 Feb

Mediehuset København – studio and equipment specs.
Facts and details about the studio
Studio: A small studio with the option to produce video in green screen (Chroma Keying)
Green screen: Three walls and the floor covered by green. 270 degrees cyclorama.
Floor plan: See above on this web page .
Aircondition: Our studio is one in a few that has air conditioning, which is necessary when working more than a few minutes.
Technical equipment : 3 x multi-camera setup s in broadcast quality, light and pin microphone.
Technical equipment in the studio control : Digital video switcher, digital audio mixer, hard disk recorder, CCU, intercom, Zoom dialogue, name tagging, live graphics and live streaming.+
Broadcasting: Lightening fast fibre connection allows live streaming for TV, websites, intranet and social media.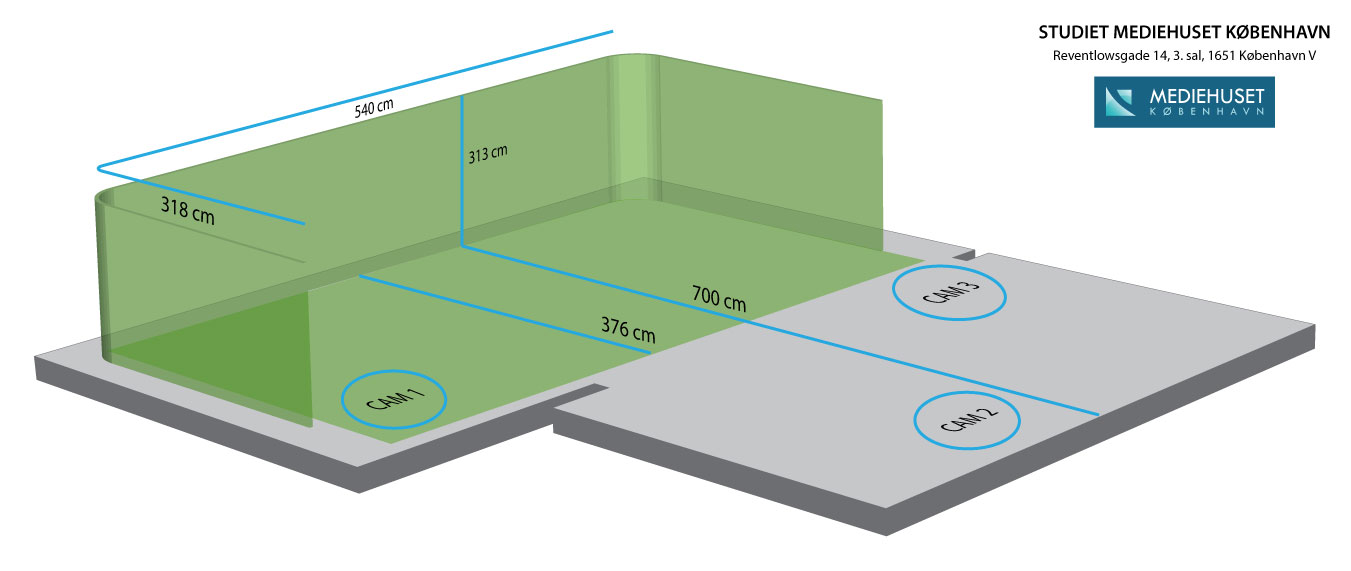 Production facilities

Tricaster TDXD450. Tricaster HD System, green screen recording, streaming, ISO recording.

vMix 4K System, green screen recording, streaming, ISO recording.

Panasonic BT-LH2600WE SDI program monitor.

2 pcs RCF FIVE Audio monitors.

Videoconferencing/webinar software integration

HDMI output provide full integration of software like WebEX, Zoom, Skype, Teams in our production workflow.

GDPR approved streaming

Streaming via Amazon AWS secure dedicated server in Frankfurt.

Storage

Streaming/distribution/contribution

300/300 Mbit dedicated fiber Internet

Connection via ISP Global Connect

Streaming to multiple platforms simultaneously

Streaming and contribution via software like Zoom, Skype, Teams, WebEx.

GDPR approved streaming via Amazon AWS server in Frankfurt.

Mastering/encoding server

Dell Precision R5500, dual 12 Core Xeon E5645, 24 GB ram, 2 TB SSD, and Nvidia GTX1660 SUPER GPU Running Adobe Media Encoder, with automatic upload to FTP, video platforms and social media.

Green Screen Studio


3 pcs.

Panasonic AG-CX350 (4K)

2 pcs.

Sony PXW-FS5 (4K)

3 pcs.

Panasonic AG-AC30 (HD)

3 pcs.

Panasonic AG-HPX5000 (P2 Camera)

2 pcs.

Libec tripods with Libec 70 heads

1 pcs.


Sachtler tripod with Sachtler Video 14 head

1 pcs.

Teleprompter with Ipad

 

Breakout for XLR connections

 

Rockfon studio acoustic dampening

 

Cyclorama green screen walls

Editing facilities

3 pcs.

PC Editing Suites with Adobe Creative Cloud like, software and workflow with Premiere Pro, Media Encoder, After Effects etc.

 

Windows 10 Operating System.

External HD-4K SSD-recorder

1 pcs.

Atomos Shogun Inferno 4K (4:4:4)

 

Other caputure devices: Magewell USB Campture SDI Gen 2

Lights

3 pcs.

F&V K4000 LED Panels Flood for main subject

6 pcs.

Ledgo LGE268C LED Panels for backlight

5 pcs.

BALCAR Duolite for green screen

3 pcs.

DynaCore DTR800W Red Heads with soft box

Cameras

3 pcs.

Panasonic AG-HPX500 (P2-CARD)

 

DVCPRO HD (100 Mbit):
60 Hz:
1080/60i 1080/24p (over 60i)
1080/24pA (over 60i)
1080/30p (over 60i)
720/60p
720/24p (over 60p)
720/30p (over 60p)
720/24pN (Native)
720/30pN (Native)

50 Hz:
1080/50i
1080/25p (over 50i)
720/50p
720/25p (over 50p)
720/25pN (Native)

DVCPRO 50 / DVCPRO/DV:
60 Hz:
480/60i
480/24p (over 60i)
480/24pA (over 60i)
480/30p (over 60i)

50 Hz:
576/50i
576/25p (over 50i)

+ variable framerates

(DVCPRO HD is not true high-definition. Resolutions are down sampled:
1280×720 becomes 960×720
1920×1080 becomes 1280×1080 (59.94i)
1920×1080 becomes 1440×1080 (50i))

3 pcs.

Panasonic AG-AC30 (HD)

 

MP4/MOV (LPCM):
1920×1080 50p / 50i / 25p 50Mbps

AVCHD (Dolby Digital):
1920×1080 50p (PS mode) 25Mbps
1920×1080 50i (PH mode) 21Mbps
1920×1080 50i (HA mode) 17Mbps
1440×1080 50i (HE mode) 5Mbps
1280×720 50p (PM mode) 8Mbps
720×576 50i (SA mode) 9Mbps

2 pcs.

Sony PXW-FS5 (4K)

 

XAVC QFHD (3840 x 2160) @29.97p, 25p, 23.98p 100Mbps/60Mbps

XAVC HD (1920 x 1080) @59.94p, 50p, 50Mbps/35Mbps

XAVC HD (1920 x 1080)@59.94i, 50i, 50Mbps/35Mbps/25Mbps

XAVC HD (1920 x 1080)@29.97p, 25p, 23.98p, 50Mbps/35Mbps

XAVC HD (1280 x 720)@59.94p, 50p, 50Mbps

AVCHD (1920 x 1080)@59.94p, 50p, PS mode(28Mbps)

AVCHD (1920 x 1080) @59.94i/50i/29.97p/25p/23.98p,
FX mode (24Mbps)
FH mode(17Mbps)

AVCHD (1280 x 720)@59.94p, 50p,
FX mode(24Mbps)
FH mode(17Mbps)
HQ mode(9Mbps)

1 pcs.

Sony PXW-FS5 with Atomos Shogun Inferno (SSD)

 

4K DCI; 24/25/30/50/60p
2K; 24/25/30/50/60/100/120/200/240p

Raw to:
ProRes RAW
ProRes
CinemaDNG (CDNG up to 30p only)
Avid DNxHD

1 pcs.

Lenses / optics for Sony FS5

 

Canon 16 – 35mm f2.8, parfocal
Canon 24 – 70mm f2.8, parfocal
Canon 70 – 200mm f.8, parfocal


Live Video Production Software

1 pcs.

NewTek TriCaster 450 Extreme

 

NTSC: 1080/30p, 1080/24p, 1080/60i, 720/60p, 720/30p, 720/24p, 480/60i Multi-Standard: NTSC-J
PAL: 1080/25p, 1080/50i, 720/50p, 720/25p 576/25i

1 pcs.

vMix 4K with Black Magic DeckLink I/O

 
Recording of Master and ISO (sperate cameras)
Streaming to social media, web and video-/webinar conference via RTMP and SRT or SDI Output. Input and output to video conferencing-/webinar software like Zoom, skype, Teams and others.
Picture-in-picture, Power Point input, Video clip playback, up/down link to and from other locations, via Vmix Call, SRT or other protocols.
720p50, 720p59.94, 720p60,
1080p23.98, 1080p24, 1080p25, 1080p29.97, 1080p30, 1080p50, 1080p59, 1080p59.94, 1080p60, 1080PsF23.98, 1080PsF24, 1080PsF25, 1080PsF29.97, 1080PsF30,1080i50, 1080i59.94, 1080i60

Live Streaming

1 pcs.

NewTek TriCaster 450 Extreme

 

Recording of Master and ISO (sperate cameras)
NTSC:
1080/30p, 1080/24p, 1080/60i, 720/60p, 720/30p, 720/24p, 480/60i Multi-Standard: NTSC-J; PAL:
1080/25p, 1080/50i, 720/50p, 720/25p 576/25i

1 pcs

vMix 4K with Black Magic DeckLink I/O

 
Recording of Master and ISO (sperate cameras)
Streaming to social media, web and video-/webinar conference via RTMP and SRT or SDI Output. Input and output to video conferencing-/webinar software like Zoom, skype, Teams and others.
Picture-in-picture, Power Point input, Video clip playback, up/down link to and from other locations, via Vmix Call, SRT or other protocols.
720p50, 720p59.94, 720p60,
1080p23.98, 1080p24, 1080p25, 1080p29.97, 1080p30, 1080p50, 1080p59, 1080p59.94, 1080p60, 1080PsF23.98, 1080PsF24, 1080PsF25, 1080PsF29.97, 1080PsF30,1080i50, 1080i59.94, 1080i60

Recording Media (camera only)

6 pcs.

P2 (Panasonic AG-HPX500) Recording Time (one camera) Total: 240 GB: 240 minutes (720p25: 480 minutes)

7 pcs.

SD (Sony PXW-FS5) Recording Time (one camera) Total: 448 GB

7 pcs.

SD (Panasonic AG-AC30 and Sony PXW-FS5) Recording Time (one camera) Total: 448 GB

1 pcs.

SDD (Atomos Shogun Inferno) 500 GB Angelbird SSD

1 pcs.

SDD (Atomos Shogun Inferno) 2 TB Angelbird SSD

Audio Equipment

1 pcs.

Yamaha audiomixer o1v96i

1 pcs.

Behringer audiomixer 802-VLZ3

3 pcs.

Sennheiser EW100-G2 Lavalier microport set

2 pcs.

Røde: RødeLink Lavalier microport set

3 pcs.

Beyer Dynamic N58C Hand/reporter mic

2 pcs.

Sennheiser MKH416P48 boom mic

10 pcs.

Rycote wind screen (Zeppelin)

2 pcs.

Sony MDR-v150 headphones